Overview
Want to be a part of Imogen Heap's Reverb? Add your own voice, ideas and contributions to selected performances across the weekend.
Leafcutter John's Graphic Score
Get a group of friends together to interpret and perform Leafcutter John's original score, either on traditional instruments or random articles of your choosing (combs? frying pans?).
Watch Leafcutter explain how his graphic score works and download his performers notes for instructions on how to interpret the various shapes and colours in the following video:
Leafcutter will choose 3 of the most innovative entries, who will each win free tickets to his performance with Imogen Heap. Leafcutter will also showcase his favourites at his demo workshop. Filmed entries are preferred so we can see what weird and wonderful instruments you've used!
Tim Exile's One Shot
How would you like to help the awesome Tim Exile with a new track he's writing with the Roundhouse Choir? Tim's on the hunt for some interesting percussion sounds to help create the beats for the track. Record a 'one shot' sound of anything you like… Your kitchen table, a frying pan, the stairs, you choose! Tim will pick his favourite sounds to loop and feature on the track.
Winners will receive tickets to the show to see the track performed live at Tim Exile's Party on the final evening of Reverb.
SUBMIT
YOUR
ENTRIES
Upload your performance to YouTube or Soundcloud, then tweet the link to @roundhouseldn using #Reverb2014 or post the link at facebook.com/roundhouseldn
Deadline: 1 August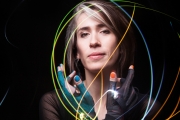 A 4 day festival curated by the Grammy Award-winning Imogen Heap