How to apply for the And Now What? Film Fund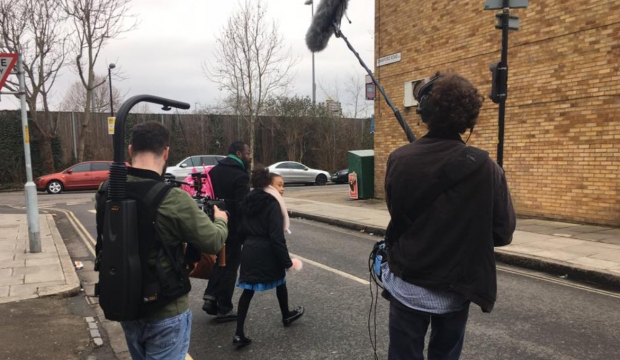 As the deadline looms for the And Now What? Film Fund (Monday 2 July!), two former Film Fund winners share their advice on how to apply and some helpful tips to get through the project if selected.
Hello, Evan and Kato here. We'd just like to say a few things about our experience of the Roundhouse Film Fund and what (unsolicited) advice we can suggest for anyone thinking of applying.
Our film Wilfried revolves around the overwhelming surroundings of a migrant father in the fast paced city life. Though what we see on screen seems like only subtle events, we very much wanted to keep the drama realistic whilst creating inferences to the audience instead, which brings me to point #1…
Boil down what your story is about
This something that is paramount for your treatment, some films aren't as explicit with the message that they are trying to convey. But it is super important to think about how to tell this message from conception, no matter how subtle you want that message to be.
Use your mentors and don't be so stubborn
You may have filmed a short comedy skit in your living room once and you may have finished the three minute piece in a day on your own. But this doesn't mean that the next film with quintuple the crew will take the same amount of time. Your mentors have probably made some of those common filmmaking mistakes so it is worth taking heed to their advice. Unless of course you'd like to make the mistake on your film. We definitely, totally, weren't this stubborn, but this could be a grave possibility if not avoided.
Write from the heart
Although this sounds obvious, I believe everyone has a story to tell and a commentary to make on our society, figure out what that is. I wish I could give you more help on this one but it's quite case specific.
Communicate, communicate and then some
Similarly to point #2, it really helps to keep everyone involved on the same page. Telepathy doesn't exist as of yet and so it is crucial for people to be vocal and explicit, you'd be surprised in how much variance there's room for within people's ideas if not discussed in depth.
Be cautious about the budget
For some, this amount of beneficiary could be new territory and it sounds obvious to be really careful. Without sounding pretentious and ambiguous, time is a good place to spend this budget. If you get fancy equipment that you don't know how to use then it can eat your budget and kill your shooting day, and no one wants that.
Have fun
Okay this is definitely pretentious. But seriously, on set it's really easy to get caught up with how things may go wrong or not be how you expected them to be. But the less you sweat the small stuff and respond to issues calmly, the more likely your film will end up better. I wonder why they're called 'passion projects'?
Have your own incredible short film idea? Applications are now open for the And Now What? Film Fund, get financial support and mentoring to make it a reality.
The Last Word Film Fund is made possible by the support of the Ex Animo Foundation.