Meet Jerome Thomas: Round our Place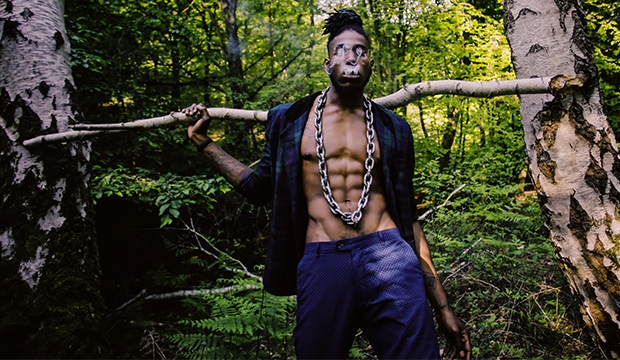 Singer songwriter Jerome Thomas is Dalston's emerging vocal powerhouse. He's played sold out shows at Bush Hall, Camden Assembly and Hackney Empire and recently headlined Round our Place as part of Roundhouse Rising Festival 2018. We find out more about one of East London's rising stars.
Hey Jerome, what's that one song that you really wish you wrote?
Jerome: Well it has to be King D'angelo, my musical dad. I could pick so many…When We Get By, or Shit, Damn, Motherfucker. Or One Mo'gin. Or Betray My Heart. I really can't pick one by him. I was listening to Black Messiah the other day, and I've heard 'Til It's Done (Tutu)' countless times, but I really heard the tune in a new way this time. He writes songs that keep growing, keep giving. His melody lines are always sick but the lyrics in this song read like a poem. Songwriting goals.
What's the opposite of your creative process?
Jerome: Rigid. Structured. Ordinary. Linear. Emotionless. Unconditional.
We're not sure who could work under those conditions either. What would you say was your most traumatic musical memory?
Jerome: I was probably about 8 or 9 years old. I'd have about 30 minutes free time before school in the mornings where I'd put on one of the mix-tapes I loved to make and perform. The 2nd floor view from my bedroom window was my audience, and I was going in! Like, far in. The song was 'Let's Get Down' by Tony! Toni! Toné!. It was going down. I was in the zone. I was Tony. I was Toni. I was Toné. At the peak of my performance, I hear a click…turn around and it's my mum holding a camera, dying of laughter! I've never been so embarrassed since. Love you ma.
If your music was food, which food would it be and why?
Jerome: Potatoes! Hear me out. They are versatile as fuck, you can mash them, fry, roast, boil, part boil them. You can even crisp them, but they don't lose their 'potatoeyness'. They go with just about any meal. Who doesn't love potatoes? They are even vegan friendly.
What is your favourite setting to record in?
Jerome: I like for the setting to be intimate and homely. I'm a sucker for incense burning, crystals, ugly rugs, comfy old chairs, that sort of thing. That's more my ideal setting to record in. I've not recorded somewhere that ticks all those boxes…yet. The closest thing to that right now is my bedroom. That's where I record all my tunes.
And lastly, where can we find your upcoming gigs and your released music?
Jerome: The best place to find them both simultaneously is Spotify. All of my music and gig dates are on there, but you should follow my instagram 'jeromethomasfoe' for all the instant updates.
> Check out Jerome's music here