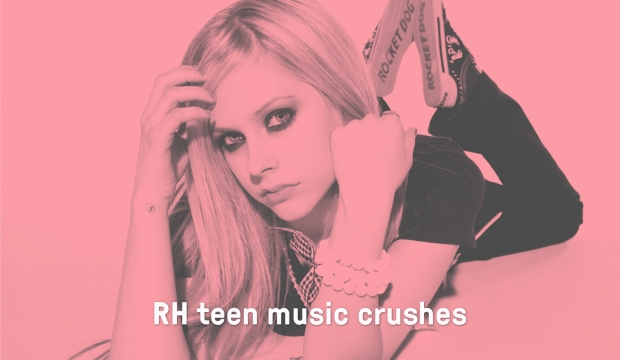 On Valentine's day, the Roundhouse team reminisce on their teen music crushes.

© Apple Music – our official streaming partner
Avril Lavigne, Complicated – Sam Hewing, Visitor Services Supervisor
The first mainstream pop punk skater girl, inspiring girls everywhere to wear ties with t-shirts and not give a damn. What's not to love about her.
Tainted Love, Marilyn Manson – Faye Daniels, Marketing Manager Brand and Impact
This really is embarrassing but I had a pretty serious teenage crush on Marilyn Manson. Tainted Love is probably the video I remember most, although looking back the gangster-goth aesthetic is v cringe.
Peter Murphy (Bauhaus), Bela Lugosis Dead – Michelle Yee Chong, Visitor Services Assistant
I'm not expecting many people to know this one, Peter Murphy from Bauhaus.
I was studying at London College of Fashion, and a student used Bauhaus – Bela Lugosis Dead – for his final catwalk show…
Synyster Gates (Avenged Sevenfold), Bat Country – Hayley Osborn, Operations Administrator & PA
Mine was Bat Country-era Synyster Gates from Avenged Sevenfold. His solo in this video was (apart from K cider, ugh) my favourite thing when I was 16…and my best friend fancied their lead singer, good times!
David Bowie, Soul Love – Iris Wilkes, Visitor Services Supervisor
My crush was (and still is!) David Bowie singing 'Soul Love'. Androgynous, glamorous and as the lyrics say, "love is careless in its choosing".