"Extreme metal's always been political" – Hear the music that inspired #TORYCORE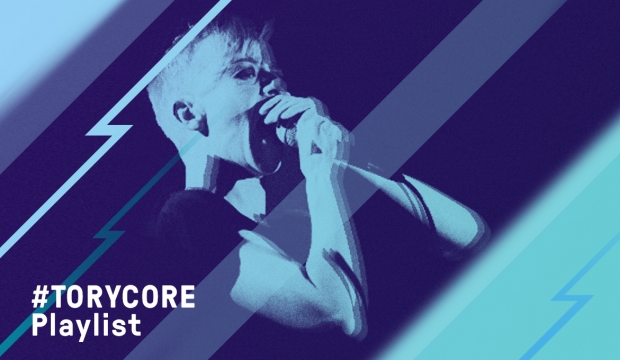 Who's up for a heavy metal gig theatre show? (yes, that's a thing).
#TORYCORE will be a night of rage, PowerPoint presentations dissecting Tory doctrine and plenty of screamo. As we rev ourselves up for the big night, #TORYCORE member Chris Thorpe lists his top metal tracks that have inspired the music behind the show.
Slayer – Raining Blood
If I didn't discover classic '80s thrash metal as a teenager there's no way I'd be doing this.
Cannibal Corpse – Hammer Smashed Face
The first time all three #TORYCORE performers were in the same room was at a Cannibal Corpse gig. This is the energy that made us want to do it. It was Lucy who had the idea of dealing with actual evil rather than serial killers and disembowelment. I was standing next to Lucy and I think it was when they played this song she just turned to me and went, "fucking hell".
Godflesh – Like Rats
Programmed drums. Slowness. Downtuned guitars. Repetition. All important things in #TORYCORE. Justin Broadrick's entire career bears a lot of responsibility for this show, but the work he did with Godflesh is probably the most important bit of it.
Napalm Death – Cock-Rock Alienation
Extreme metal's always been political. If you don't believe that, listen to this because you're wrong.
The Newtown Neurotics – Kick Out The Tories
One of the under-appreciated punk bands. Just a reminder this isn't new. And #TORYCORE has a bit of punk in it.
Nina Simone – 22nd Century
Possibly the best ever musical intersection of anger, art, and uncompromising strangeness. I love this more than I thought humanly possible. If we could aim for just one moment in each show that gets a tiny step towards the kind of unhinged, but utterly focused horror in this song, we're heading in the right direction. This is a genius unloading on the world, in the moment, with everything she's got. And no-one could get close to this, but it's a great thing to have on the horizon.
> #TORYCORE opens on 27 November for one night only, as part of our And Now What? season of shows.