Youth circus project with +/- Human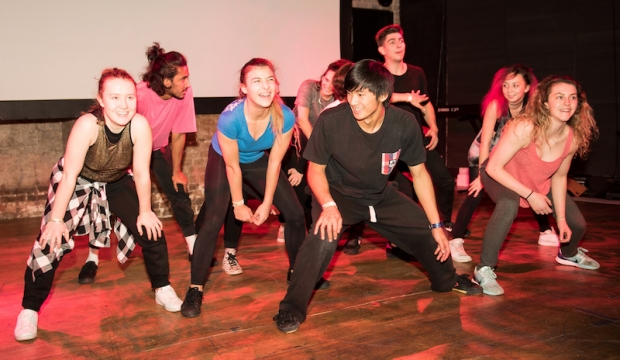 We believe creativity transforms lives and that's why we work with more than 3,000 young people every year, on a huge number of creative projects. One of these projects is our Street Circus Collective and over the past few months they've been working (with other youth circus groups) alongside +/- HUMAN.
Alongside the main space installation, the Roundhouse has been delivering a large-scale community project blending circus and dance, to create a new performance in response to the +/- HUMAN installation. The project has engaged 25 young people who are 11-25-years-old, from the Roundhouse Street Circus Collective and offsite Parkour and Free-running Projects and young people training at the National Centre for Circus Arts. Two dancers from Studio Wayne McGregor along with two circus tutors, have been working closely with the young performers.
The young circus performers will be performing twice, once on Friday 11th at our community partner's venue and again at 7pm on Saturday 12 August, as part of the main installation dance performance (so if you've got tickets to that performance, you're doubly lucky)!
We spoke to Miles and Jason, who are members of the Roundhouse Street Circus Collective to hear how they've found this +/- HUMAN experience.
Miles Keen


What about this project most excites you?
What excites me the most is working with Studio Wayne McGregor because I have followed and loved their work for many years. To be part of a project with their company is just a fantastic opportunity to work with some amazing people. I'm really looking forward to doing the shows.
What has it been like working with Studio Wayne McGregor artists?
It has been really awesome because of the way Catarina (one of Wayne McGregor's dancers) has been teaching us at such a high level. I think the shows will be really special and people will be impressed with the piece we have created.
Jason Cheung


How have circus and dance been overlapping so far?
Circus and dance have overlapped brilliantly during our creative process. We have managed to bring some dynamic partnered acrobatics into beautiful sequences and touching moments within dance. Fusing the two disciplines has been a lot of fun and is great for our professional development.
What do you think an audience will experience during your performance?
I think audiences will get the best of all worlds with our performance. We will bring lively circus energy, personal moments from dance and incorporate technological wonders from the orbs. It will hopefully be something to remember!