We have more in common than that which divides us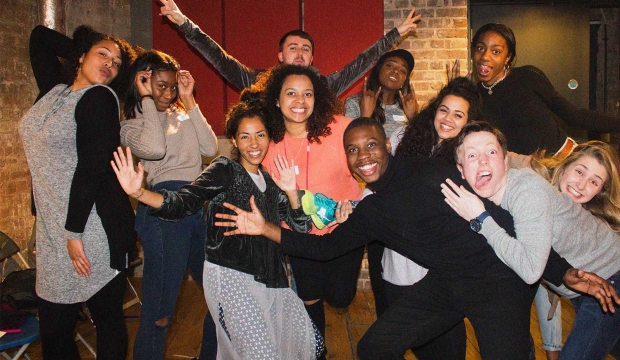 At the Roundhouse, we champion the power of creativity to help bring people together and find common ground. As part of our work with young people, we connect creative professionals with young artists and the results are transformative.
As the UK celebrates the late MP Jo Cox's belief that "we have more in common than that which divides us" at The Great Get Together we caught up with creative producer and founder of Sour Lemons Sade Brown and her young mentee, musician Emma to hear their thoughts on how a collective approach helps their relationship and work.
Image: Sade & Emma plus On Track participants in the Roundhouse Studios
How do you explore diversity through your work and creativity?
Sade: : I am a creative producer and a social entrepreneur. My sweet spot is creating work about social change and diversity. Those interests are what led me to start Sour Lemons; a social enterprise which increases diversity in leadership roles across the creative industries by delivering creative training programmes for young leaders. Diversity brings different perspectives; it brings different food, and culture and art, and dance. Some of the most exciting collaborations or celebrations I can think of come from when there were two opposites that collided. Our strength is in our diversity. I think for society, if you can get past the fear, it can bring people together.
Emma: I'm a multimedia artist and a musician. I just finished a six week course with the Roundhouse called On Track which is where I met Sade and now I am working with The Amy Winehouse Foundation. A few things Sade said when I first met her about the importance of diversity in the arts world really resonated. I've decided that I want to have more conversations that provoke a diverse range of answers, and include the ethos of things like queerness, gender, race. I want this language to be part of the everyday conversations I have, and be surrounded by people from different backgrounds. When the worlds of music, theatre and visual arts collide they can really shift the way we think about our everyday lives.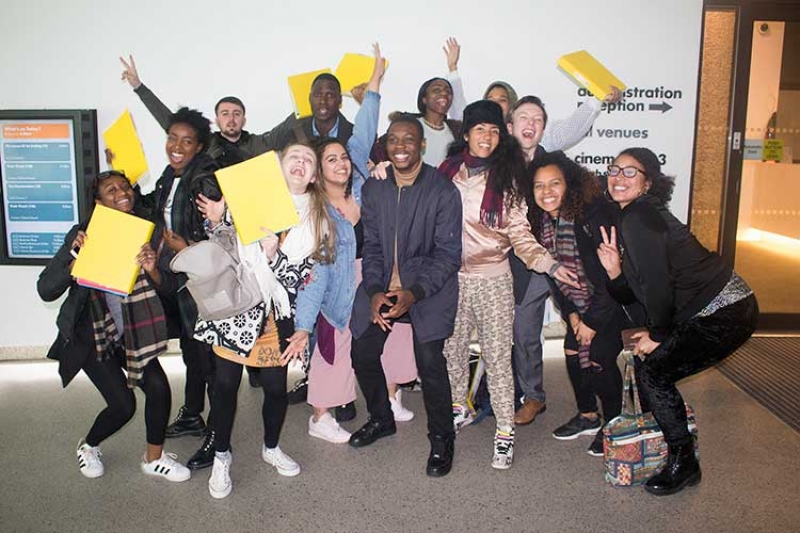 Image: Participants in Sour Lemons' Diverse Leadership programme
Do you feel that society is divided?
Sade: I'm going to focus on London, because that's where I'm from, and it's where I live. I see a lot of kindness in London, and a lot of generosity, and people coming together. Even still, I think there is a lot of division. I think there are a lot of people who feel they've been left behind. There's a big class divide – now more than ever. I know a lot of people who have moved to London from within the UK, and outside, and they find London to be a lonely city, and a harsh city. At the same time. if you are connected, there are so many opportunities. I feel like I'm part of multiple communities, and an active part of so many of them.
Emma: Everybody is afraid of losing who they think they are, whether that's to do with money, or community or resources (health and welfare). I think the current climate has caused a lot of introspection for young people. We're expected – by employers and society – to be constantly exposing ourselves online and although it's scary, it's also a really huge opportunity to connect with a lot of people. That process has an amazing capability to bring people together – that is where we have something that is very unique. It's given us the position to talk about mental health, gender, diversity and the LGBT experience.
Are there enough examples of communities and positive actions?
Sade: I don't think there ever will be enough, but I think what's really warming is to see in the wake of a crisis the amount of people who come together and unite. We're stronger together. In the wake of Manchester, or London Bridge you see people on Twitter saying 'I have spare bedrooms, come over if you need help.' For me, that's real community. We come together as human beings, just reaching out.
What are your hopes for the future?
Emma: I really hope that we can come together as a community. There are so many positive communal things being done, both inside and outside institutions. Music collectives, people working within different art groups, people making zines – using this traditional, old-school hard back medium – it's super interesting. There are new community gardens everywhere. One of the best things Sade taught me is how when life gives you lemons, sour lemons, you can make them into lemonade. You turn things around when they go bad.
Sade: I want there to be more hope. I think that yes, society is divided, but the majority of that is not through culture and ethnicity. That's where community projects and story-telling and generating empathy and learning come into play. I think arts and culture cuts through it all. On community projects I've worked on I've seen it – they're so diverse and it's really exciting and powerful. We need more things like that and that's exactly what The Great Get Together is doing. There's going to be so many communities coming together and celebrating what we do have in common.
> The Great Get Together is taking place on 16 – 18 June 2017. Find an event and get involved.
> We're proud to support the The Foundling Museum's Get Together Event on the 17 June. Head down to take part in our free hula hooping and circus workshops.
> Find out more about Sour Lemons