Growing up with Bloc Party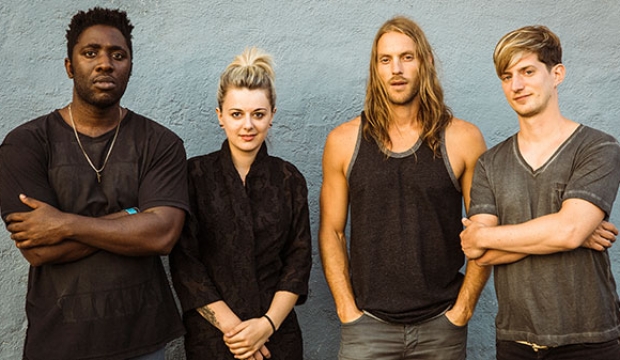 It is almost ten years to the day since the release of Bloc Party's second album, 'A Weekend In The City'; a record that covered social and political issues, which – blogger Michael McCubbin feels – are perhaps even more relevant today.
Ahead of their sold out gigs on 10 and 11 February, he takes a look back at their music and how they provided his soundtrack to growing up in 21st Century London.
I first heard Bloc Party while playing FIFA 06 on my Playstation 2. 'Helicopter', the explosive second track on their debut album Silent Alarm, was included on the game's soundtrack, and my 12 year-old ears were opened up to a brand of ferocious indie rock they'd never heard before. From that moment on I was hooked to the band's mix of mechanical grooves, post-punk energy and pure catchy tunes.
The British musical landscape was awash with guitar bands at the time. Arctic Monkeys released a record-breaking debut album, and the gossip pages of the tabloids and music magazines were filled with chatter about Luke Pritchard, Ricky Wilson, Alex Turner and, of course, Pete Doherty.
But Bloc Party were a different proposition to a lot of the more happy-go-lucky groups that were emerging at the time – they always seemed to be striving for something bigger than the scene they were part of, both in their music and in their general outlook.
The Daily Mail says the enemy's among us – taking our women and taking our jobs
On the day it came out – 5th February 2007 – I got the bus straight from school to pick up a copy of A Weekend In The City from HMV. The excitement was unreal, even though I'd heard it once before – the band had streamed it for 24 hours on their Myspace page.
The album came under a lot of scrutiny due to frontman Kele Okereke's overt lyrical discussions of sexuality, racism, suicide and drugs. As a just-turned teenager with no real ideas about the world, I was drawn in by the singer's readiness to speak so frankly on these issues.
The most obvious pick of the bunch is second track 'Hunting For Witches'. Written in the aftermath of the 7/7 bombings, Okereke discussed the media hysteria surrounding terror attacks, singling out the Daily Mail in particular.
On 'Where Is Home?', the frontman – whose parents emigrated to the U.K. from Nigeria – talks about "second-generation blues" and exclaims, "In every headline, we are reminded that this is not home for us".
A decade later and in the aftermath of the EU referendum, the divisions in the country on issues such as immigration and international terror are starker than ever. No wonder 'Hunting For Witches' remains a fan favourite at gigs – it speaks just as much to 2017 audiences as it did in 2007.
When I look back over those 10 years, and remember the Bloc Party gigs I went to as a teenager – sweaty, rowdy and euphoric – I see them as a rite of passage that will live long in my memory.
As I have grown older, so have the band, reinventing themselves musically multiple times over the past decade. Most recently, they said goodbye to old band members and welcomed in new blood for latest album Hymns. The Roundhouse is definitely in for a thrill with this latest incarnation.