Introducing: Resident Artist Estée Blu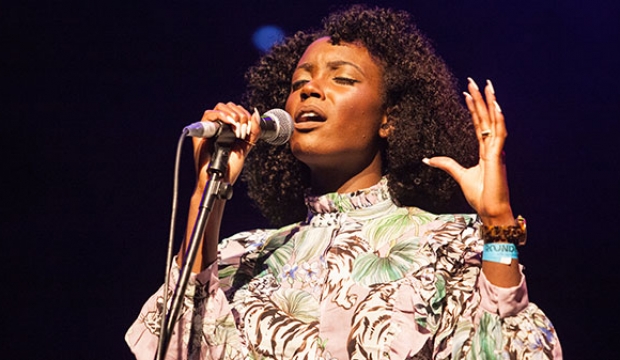 Our Resident Artists programme offers support and opportunities for emerging artists aged 18-25 to transition from our Creative Programme into the creative industries, working across art forms including circus, cabaret, theatre, spoken word, music and radio.
This month we shine the spotlight on London Singer-Songwriter Estée Blu, who embraces Jazz, Gospel, Neo- Soul and R&B.
Sum up your sound
I'd say that my sound is sweet, soulful and sultry.
Tell us how you started playing music?
I started singing in the children's Gospel choir of my Church when I was about 6 years old. From then onwards I was always involved on and off in music ensembles and showcases. It wasn't until 2013/14 that I got into it a bit more with my first band and performing at local events.
In August 2015, I released my first body of work and I won the Westfield Presents showcase with Sennheiser UK. The journey is still ongoing but 2016 was an incredible year for me, especially in terms of live performances. I work with some great musicians who are able to feed into and amplify the sound I'm creating, so I'm even more excited for 2017!
What would your advice be to a young musician just started out?
I'd say that finding out what type of artist you want to be is extremely important. What is your value system, and does your music reflect it? It took me a while to figure that out, but once I did I was a lot more confident and comfortable as an artist.
What have you got coming up over the next few months?
I'll be performing at Roundhouse Rising, which I absolutely can't wait for, and hopefully I'll get onto some awesome lineups for the summer. I'll also be working on releasing a project full of original material. I don't want to put a date on it, but it should be ready before the year is over.
What does being a Roundhouse Resident Artist mean to you?
It means so many different things and so much to me. I've been coming to the Roundhouse for many years, so I'm proud to be a part of a community that champions and whole-heartedly supports homegrown talent.
What do you feel are the biggest obstacles to young musicians?
As a young musician, I think that access to good resources, industry knowledge/expertise and performances opportunities can be a challenge to find on your own. It's a lot easier if you have a manager, label or booking agent, but if you don't it's important to do some research and get out there to gig and network.
Who are you main influences?
My top three would have to be Whitney Houston, Lauryn Hill and Jhené Aiko, as they have all had a profound effect on me in different ways and at different stages of my life. Whitney Houston was the reason I was inspired to sing at age 6, Lauryn Hill's value system spoke to me in my late teens and Jhene Aiko's honest lyrics nursed me through my first adult heartbreak.
What have been your career highlights so far?
There have been so many! But some amazing moments include winning Westfield Presents Artist of Month in 2015, headlining National Picnic Week with Mercure Hotels at Somerset House, headlining Ibis Lates at Ibis Shoreditch and supporting Ward Thomas in December at their sold out London gig at the Roundhouse.
Where do you hope to be in 5 years?
I hope to be in a space, where I'm still able to create and be happy doing that.