Introducing: Resident Artist Benna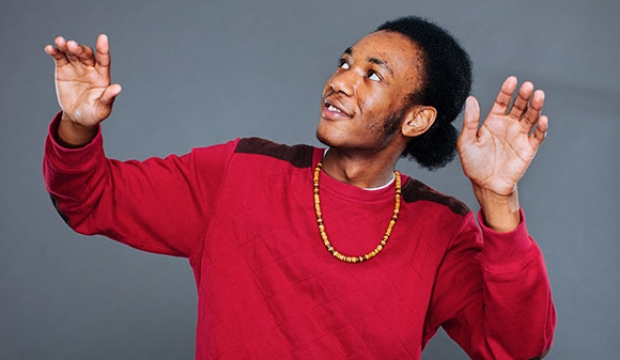 Our Resident Artist programme offers support and opportunities for emerging artists aged 18-25 to transition from our Creative Programme into the creative industries, working across art forms including circus, cabaret, theatre, spoken word, music and radio.
We catch up with Resident Artist Benna who reveals how he uses his skills in spoken word and poetry as a platform for positivity.
Sum up your style in five words…
Engaging, Passionate, Honest, Raw and Naked (metaphysically speaking!)
When did you first discover spoken word?
Just before I applied at the Roundhouse. I was sitting in my living room at 3.36am writing down conversations and things that had happened the previous week which came out on the page as poetic emotion.
Usually I would be writing to an instrumental, but this time, things were just flowing out of me and I didn't want to box in my feelings by adding a beat and having to fit the words inside the parameters of four beats per bar. I didn't call the finished product a poem or spoken word, but it had more raw emotion than any of my previous bedroom raps did, so I knew it was different and special.
What are your influences?
Human interaction and behavioural psychology plays a huge part in the characters I take on and the stories I tell. Growing up on a council estate, I've seen a lot and heard even more. I would have to include my experiences from such a dark environment.
Being a young black male who wasn't influenced by most stereotypes that come with growing up in the 'ends' has had a huge impact on my writing. It led me to a place, mentally, where I realised I had a responsibility to use my platform in a positive way to tell the young people where I'm from, that drugs, sports and music isn't the only way to make it out. Imagination and mastering which ever craft you live and love is enough.

CrepjunkieTV & Benna pay homage Run DMC's groundbreaking classic My Adidas
How have you been involved with the Roundhouse?
I've been involved with the Roundhouse since 2014, when I started a poetry course called Wax Lyrical. Since them I have performed on the Roundhouse stage twice, been the 'poster boy' with my face on the front of the building, and I am now a Resident Artist, building great relationships with everyone that considers the Roundhouse home as I do.
What are your career highlights so far?
My most recent would have to be performing at Lovebox festival. Being in the same environment with names such as Stormzy, Giggs, and Ghetts (to name a few), and knowing that people could literally go to their stage and watch them or come to my stage and watch me was truly surreal. I guess it was a definite sign that I am on the right path.
How do you find opportunities?
Be everywhere, all of the time and network with everyone in sight! I find opportunities by talking to people in my community, making sure as many people as possible know what I do, and reminding myself to stay current with my writing. I find that the more current my content, the more people want to collaborate with me.
How has being a Resident Artist helped your development?
It's given me access to digestible information on the business side, in terms of being self-employed, taxes, branding and all of the other stuff an artist like me finds it hard to dedicate time to (or even comprehend!). It has also given me amazing performance opportunities that have helped me sharpen my craft much more.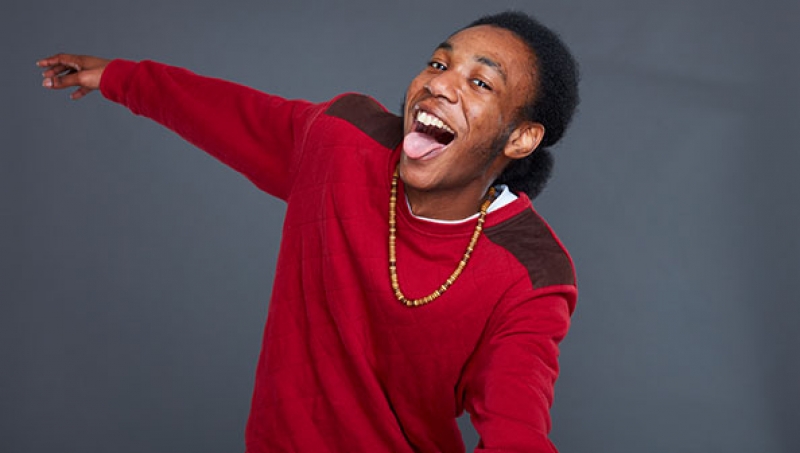 Any advice for others just starting out?
As soon as you hit the stage and grab the mic, you are now an authority figure with words of power. The people will absorb your every word and connect with a part of themselves through the stories you tell. At this point it's not about you, it's about them and everything they can get from your story; so capture your nerves and use it to enhance your performance.
What's coming up?
I have so many things coming up, including releases on Soundcloud and everywhere else. I'm also working with some well-known organisations, so my face will be popping up more frequently. I'm currently working on a social enterprise called 'Live Love Talent'; and things are about to get busy on the 'business' side, so keep your eyes peeled.