Next Generation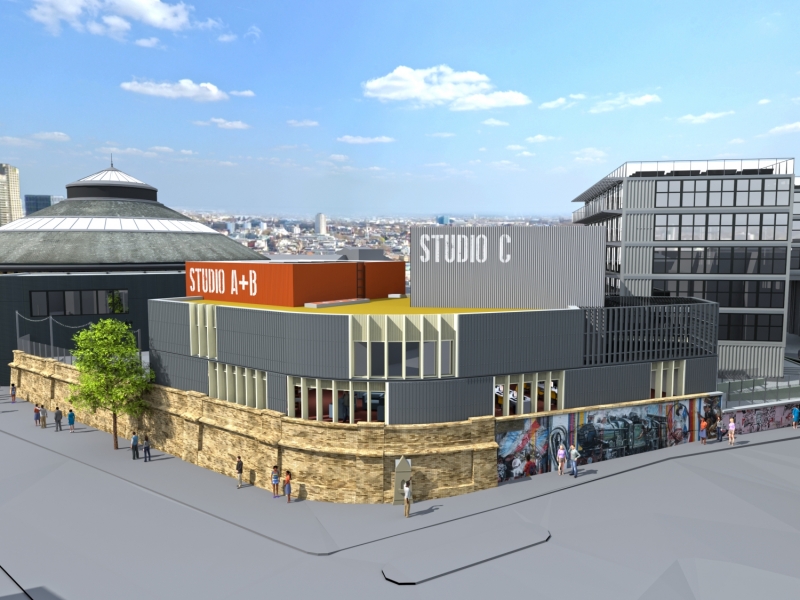 TRANSFORM YOUNG LIVES. JOIN THE REVOLUTION.
Since 1966 the Roundhouse has built a reputation as the home of counterculture and youth movement; a place for rebels, rule-breakers, game-changers and art-makers. We know that creativity gives us freedom, hope and has the power to transform. We create to change our society and, in our small way, build a better world.
The Roundhouse has a real opportunity to be a catalyst for change. We have exciting plans to expand our creative programme to reach over 10,000 young people annually within five years. Sitting in a very special place between education and employment, we have a particular strength in engaging hard-to-reach young people and those with fewer opportunities. Of the 4,500 young people who came here last year 52% are from lower socio-economic backgrounds and 35% are BAME. We teach young people creative and life skills. We offer professional opportunities, taught programmes, technical apprenticeships, traineeships, and provide progression pathways into careers in the creative industries or back into education, employment or training.
We know the creative industries will be worth £128bn to the UK economy by 2025 and will grow by 1million jobs by 2030. To fill these jobs a huge investment is needed to nurture the creative talent of the future, this can only be achieved if the creative industries diversifies its workforce to encourage more people into the sector. Currently only 1 in 10 people working in the creative industries come from lower socio-economic backgrounds. The Roundhouse is an organisation that can help combat this lack of diversity and support the social mobility of young people from lower socio-economic and BAME backgrounds, because of the work we do, and impact we have already had, with young people from these backgrounds.
Our plan to reach over 10,000 young people a year by 2023 is ambition. Our current annual reach of 4,500 young people already represents an increase of more than a third in less than two years. This has placed a huge pressure on the physical capacity of our Paul Hamlyn Roundhouse Studios and on the number of creative projects we can deliver. To combat this, and meet the demand of both young people and the creative industries, we have launched the Next Generation Campaign. Our plan is to build new studios on site and create a new Centre for Creative & Digital Entrepreneurs.
Matt Hancock, Secretary of State for Digital, Culture, Media and Sport helped us launch our plans.
Our nation's future will be built at the nexus of artistic creativity and technical capability. So the iconic Roundhouse's ambitious expansion plan is fantastic and will help new talent break through in our booming creative and digital industries. This work will transform thousands of young people's lives, giving them an incredible opportunity to grow as entrepreneurs and increase diversity within the sectors. I look forward to hearing many success stories from this plan in the future.
The new building, which is designed to be fully accessible, comprises:
• Centre for Creative & Digital Entrepreneurs under the age of 30.
• Music wing housing Studios A&B – two new sound-proofed studios for large ensembles, bands and the Roundhouse Choir. These studios will be equipped with state-of-the-art digital facilities for recording and live broadcast on Transmission Roundhouse (formerly Roundhouse Radio).
• Performing arts wing housing Studio C: a triple-height studio for experimental theatre, performing arts and professional circus skills progression.
• Breakout spaces for networking and collaboration.
• A year-round outdoor bar for audiences adding to our premium venue offer.
We believe through the Next Generation Campaign, and by growing our offer, we can create social change. A more diverse creative sector means equal opportunities for all young people without background, economic disadvantage or ethnicity acting as a barrier. Ultimately this will have a positive impact on our economy to have a diverse sector that better reflects our society.
To achieve this vision we need to raise £15million. We have already raised nearly £10million including the gift of land, valued at £5million, from the Norman Trust, and we have received support from the Paul Hamlyn Foundation, CHK Charities Ltd, Cockayne Foundation, Garfield Weston Foundation and the Foyle Foundation, as well as many generous donations from individuals.
To find out more about the Next Generation Campaign and how you can invest in its success please contact:
Marnie Middlemiss, Head of Major Giving & Trusts
e. marnie.middlemiss@roundhouse.org.uk
t. 020 7424 6777
Every time the Roundhouse opens its doors something wonderful happens Sir Antony Gormley, OBE